Dr. Eric Wagner
Research Scientist
Eric Wagner has an M.A. in English and Ph.D. in Biology from the University of Washington. He is generally interested in seabirds, and at Punta Tombo has studied the penguins' behavioral ecology, as well as the effects that tourism can have on penguins more broadly. Closer to home, he collaborates with a team of researchers who work on rhinoceros auklets at two of their colonies off the Washington coast, looking at how a changing climate affects the birds in different marine systems.
Eric is also an award-winning science writer and author. His essays and journalism have appeared in The Atlantic, Audubon, High Country News, Orion, Smithsonian, and elsewhere, and he has written three books, including Penguins in the Desert and After the Blast: The Ecological Recovery of Mount St. Helens. He is a regular contributor to The Last Word On Nothing, and Book Reviews editor for Marine Ornithology.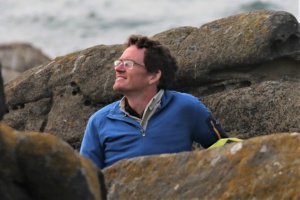 Selected Publications
Wager EL, Frere E, and Boersma PD. 2023 Changing course: Relocating commercial tanker lanes significantly reduces threat of chronic oiling for a top marine predator. Marine Pollution Bulletin.
Wagner EL, Pearson SF, Good TP, Hodum PH, Buhle ER, and Schrimpf MJ. Resilience to a severe marine heatwave at two Pacific seabird colonies. Marine Ecology Progress Series.
Wagner EL, Cappello CD, and Boersma PD. 2022. Should I stay or should I go: Factors influencing mate retention and divorce rates in a colonial seabird. Animal Behaviour. 192: 133 – 144.
Wagner EL, Garcia Borboroglu P, and Boersma PD. 2021. The power of penguins: Where tourists travel to see penguins in the wild. Ocean and Coastal Management 201: 105429.
Wagner EL and Boersma PD. 2019. Food allocation and feeding behaviors in Magellanic penguin (Spheniscus magellanicus) adults and chicks. Animal Behaviour 148: 161 – 168.
Wagner EL and Boersma PD. 2011. The effects of fisheries on seabird community ecology. Reviews in Fisheries Sciences 19: 157 – 167.
Wagner EL. 2009. A land's allegiance: Functions and representations of landscape in post-colonial theaters. Interdisciplinary Studies in Literature and the Environment. 16: 569 – 589.
Books
The View from Destruction: One Island, Twelve Thousand Birds, and the Futures of the North Pacific. Forthcoming. University of Washington Press.
After the Blast: The Ecological Recovery of Mount St. Helens. 2020. University of Washington Press. (Named a Choice Outstanding Academic Title of 2020)
Penguins in the Desert. 2018. Oregon State University Press.
Once and Future River: Reclaiming the Duwamish. 2016. University of Washington Press.