Dr. Jennifer Tennessen
Research Scientist
Dr. Jennifer Tennessen is a Senior Research Scientist at the Center for Ecosystem Sentinels, in the Biology Department at the University of Washington. She holds a BS in Biology and a MS in Conservation Biology from the University of Wisconsin – Madison, and a PhD in Ecology from The Pennsylvania State University. She is broadly interested in the consequences of global change on animal ecology. Dr. Tennessen's work spans marine and terrestrial systems, and weaves together bioacoustics, movement ecology, animal behavior, ecophysiology, and conservation biology, to discover the diverse strategies animals employ to cope with global change. For over a decade she has studied how novel acoustic environments affect the sounds animals use to communicate, the ways their physiological and immune systems respond to acoustic stressors, and the impacts of novel sound on behavioral ecology.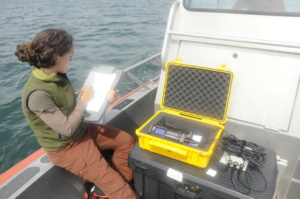 She primarily focuses on cetacean and anuran systems, two groups threatened globally. Her past work has investigated (1) behavioral ecology of killer whales (Orcinus orca), (2) acoustic masking of communication between mother-calf pairs of North Atlantic right whales (Eubalaena glacialis), and (3) noise impacts on reproductive behavior, glucocorticoid stress and immune responses in several frog species.
Currently, Dr. Tennessen and collaborators from NOAA's Northwest Fisheries Science Center use high resolution suction cup-attached biologging tags to study the fine-scale subsurface movement patterns and sound production of two at-risk populations of fish-eating killer whales that spend a significant part of the year in the coastal and inland waters of Washington state and British Columbia. These populations (Northern and Southern resident killer whales) live in partial sympatry but have experienced divergent population growth trajectories over the past few decades. Dr. Tennessen's research uses behavioral data from tags to develop methods to identify successful foraging outcomes based on unique movement signatures, characterize foraging behavior over 24-hr periods, and test environmental and demographic factors related to divergent patterns of population growth.
Dr. Tennessen has received funding from government agencies, academic institutions and organizations including NSF, NOAA, Canada's Department of Fisheries and Oceans, the Animal Behavior Society, Wildlife Acoustics, and the American Society for Ichthyology and Herpetology. Her research has been covered by media outlets including Seattle's King5 News and the Canadian Broadcasting Company's radio show "Quirks and Quarks", and in magazines including The Atlantic and The Wildlife Society.
Selected Publications
Tennessen. J.B., Holt, M.M., Wright, B.M., Hanson, M.B., Emmons, C.K., Giles, D.A., Hogan, J.T., Thornton, S.J., Deecke, V. B. Divergent foraging strategies between populations of sympatric matrilineal killer whales. Behavioral Ecology, arad002, https://doi.org/10.1093/beheco/arad002
Holt, M.M., Tennessen, J.B., Hanson, M.B., Emmons, C.K., Giles, D.A., Hogan, J.T. 2021. Vessels and their sounds reduce prey capture effort by endangered killer whales. Marine Environmental Research 170, 105429
Holt, M.M., Tennessen, J.B., Ward, E.J., Hanson, M.B., Emmons, C.K., Giles, D.A., Hogan, J.T. 2021. Effects of vessel distance and sex on the behavior of endangered killer whales. Frontiers in Marine Science 7, 582182. doi: 10.3389/fmars.2020.582182
Featured in: The Seattle Times, CBC News, Radio Canada
Dominoni, D.M., Halfwerk, W., Baird, E., Buxton, R.T., Fernández-Juricic, E., Fristrup, K.M., McKenna, M.F., Mennitt, D.J., Perkin, E.K., Seymoure, B.M., Stoner, D.C., Tennessen, J.B., Toth, C.A., Tyrrell, L.P., Wilson, A., Francis, C.D., Carter, N.H., Barber, J.R. 2020. Why conservation biology can benefit from sensory ecology. Nature Ecology and Evolution 4, 502-511. (majority of authors listed alphabetically)
Tennessen J.B., Holt M.M., Ward E.J., Hanson M.B., Emmons C.K., Giles D.A., Hogan J. 2019. Hidden Markov models reveal variability in behavior of fish-eating killer whales. Scientific Reports 9, 1-12. Top 100 in Ecology list for Scientific Reports; Featured on: Seattle PBS.
Tennessen J.B., Holt M.M., Hanson M.B., Emmons C.K., Giles D.A., Hogan J. 2019. Kinematic signatures of prey capture from archival tags reveal sex differences in killer whale foraging activity. Journal of Experimental Biology 222, jeb191874. doi:10.1242/jeb.191874
Featured on: TV news interviews on Seattle's King5 News and Q32Fox
Tennessen J.B, Parks S.E., Swierk L., Reinert L., Holden W., Rollins-Smith L.A., Langkilde T. 2018. Frogs adapt to physiologically costly anthropogenic noise. Proceedings of the Royal Society B: Biological Sciences 285: 20182194.
Featured in: The Atlantic, The Wildlife Society, ScienceDaily, AmphibiaWeb.org, Earth.com, iNews
Tennessen J.B., Parks S.E. 2016 Acoustic propagation modeling indicates vocal compensation in noise improves communication range for North Atlantic right whales. Endangered Species Research 30: 225-237.
Tennessen J.B, Parks S.E., Tennessen T.P., Langkilde T. 2016. Raising a racket: introduced species compete acoustically with native anuran communities. Animal Behaviour 114: 53-61.
Featured in: Radio interview on CBC's Quirks & Quarks; Covered by PLOS Ecology, Yahoo!News, Takepart.com, Eurekalert.org, ScienceDaily, NatureWorldNews, American Institute of Physics
Tennessen J.B., Parks S.E., Langkilde T.L. 2014. Traffic noise causes physiological stress and impairs breeding migration behaviour in frogs. Conservation Physiology 2: cou032. doi: 10.1093/conphys/cou032. Selected as Editor's choice.