Pablo Garcia Borboroglu
Cofounder/Preseidente of Global Penguin Society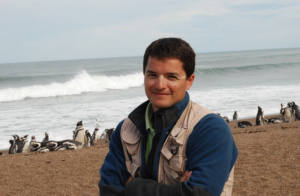 Pablo (Popi) Garcia Borboroglu is the co-founder, together with Dr. Boersma, and President of the Global Penguin Society (GPS, www.globalpenguinsociety.org), an international science-based conservation coalition dedicated to the survival and protection of the world´s penguin species. He is a researcher at the National Research Council in Argentina and Affiliate Professor at the University of Washington.  He has spent 25 years in the field of marine conservation and his research focuses on different ecological aspects of seabirds relevant for conservation, with special emphasis on penguins.
Popi studied biological sciences at the National University of Patagonia San Juan Bosco and received his Ph.D. in biology from the National University of Comahue in Argentina. He has received the Pew Fellowship in Marine Conservation 2009 and the Whitley Award 2010.
He also works on marine conservation tools planning and implementation. In this role, he interacts with Government agencies and other institutions, coordinating participatory management Plans and designing plans for specific areas. He also creates commissions to help the authorities implement these plans and proposes the designation of protection regimes for fragile resources or areas. In addition, he has taken direct action in conservation issues such as oil pollution in the southwest Atlantic, which created large scale problems for seabirds.
With a strong recognition that improved stewardship of the ocean requires both science and communication to modify people's attitudes and behavior, Borboroglu works extensively with international media. He has been a scientific advisor to Paramount Pictures, the Swedish and German National Television Channels, Tokyo Broadcasting System and Irish International Press, among others.